Iridium Gold Rum, by FNQ Rum Co is distilled at Mt Uncle Distillery in the Cairns Highlands. Here water is never scarce, and humidity is a way of life. Most of Australia's sugar crop grows nearby, so rum seems perfectly suited to the environs. I think wine snobs call it terroir.
Made at Mt Uncle Distillery
This rum is close to my heart, literally, as it's made just a short drive from my ship. I must have been to the distillery at least 10 times! Truth be told, I'm really fond of their pet alpacas, since alpacas are particularly tasty, and the alpacas seem to like my illegal feeding. I'm just fattening them up for Christmas.
Mt Uncle Distillery is run by a very entrepreneurial mob who also produce a top class range of liqueur. I love their banana liqueur, and they even grow bananas at the distillery. The head distiller Mark Watkins appears to be a very passionate and entrepreneurial chap, judging by his updates on Facebook.
They recently took out a gold medal at the Hong Kong International Wine & Spirit Awards for Iridium, which seems somewhat appropriate that they call their rum a 'gold' rum.
Iridium is 40% Alc/Vol, and according the label is triple distilled, single barrel aged rum from 100% sugar cane. That makes this rum an agricole style, similar to the French Carribean Rhum Agricole. It's aged for 4 years in American oak, formerly used for red wine production.
Highlighting this as a small batch distillery, all bottles are hand labelled. Our bottle is #488 from barrel 6.
Iridium Gold Rum tasting notes
We invited 7 tasting wenches, pirates and sailors over to break into this snazzy bottle. The reviews are quite mixed, but in general we felt this was a good rum, and are quite proud of it being made so close to home.
The rum bottle
One of the nicest rum bottles I've seen. It's modern, decorative, and harks back to its origins; the Great Barrier Reef and tropical rainforest. The bottle is clear, and the label is bright aqua blue with and a pleasing golden bronze wrap. The rum colour looks great against the label, and the caramel colour is gorgeously highlighted.
The only disappointing feature of the bottle is perhaps its lid. Although it probably keeps the rum well, I really do love the secure pop sound you get with opening a cork lid.
The bottle is quite impressive to look at, and would make an excellent gift purchase.
Smells nice
In the glass Iridium looks golden and luscious. According to their website the colour is a result of barrel age, and no caramel or additives have been added to this product. It certainly looks yummy!
As soon as we poured this rum the scent wafted around the room. It's a stinking hot day today, mid-Summer on Australia Day, and fragrances seem to linger a bit longer in the heat.
What we smelled most strongly is a rich salted caramel sauce. We wanted to pour it on ice cream. The caramel was the prominent and very distinguishable fragrance.
When we got our nose deep in the glass, several of us got a whack of alcohol that reminded us of Stroh, the brutal Austrian spirit that we think smells like superglue. There were a few comments like Araldite & acetone, and that 1st whiff close up was a bit challenging.
Upon further inspection and probably after the alcohol has dissipated a bit the nose was much more welcoming. Here's a shortlist of our comments:
Mixed spice
Sweet
Caramel sauce
A tropical fuitiness – mostly pineapple and banana
BBQ caramelised fresh pineapple
Salty, like a sea breeze.
Do you smell these too? Please comment and tell us what you smelled in your glass of Iridium.
Tastes great, lots of caramel!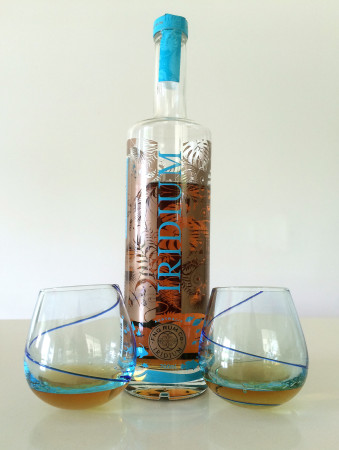 In tastings we were a very mixed bunch, with dramatic differences in our palate sophistication and tasting experience.
We all identified an initial heat, "Whoa, it really hits ya!" was the most vibrant expression. I get green peppercorns initially, and the heat falls off the palate quickly, just like green peppercorns do. Many people also reported a minerality, and metallicness in their first sip.
This greenness and minerality is probably due to this rum being from cane spirit instead of molasses. While we haven't been tasting rums very long we are guessing this from reading other rum reviews of this style.
The mid-palate has a buttery mouthfeel, which many of us found a bit short. We liked the fruit flavours, but were disappointed that the spice on the nose didn't continue through into the finish.
Here's what we tasted:
Sweet golden caramel, not too dark
Wood & oak
Overripe apricot
Mascerated prunes
Agave nectar sweetness
Lingering salty sea spray
Overall thoughts
We liked this rum, and would drink again. We find it a pleasant drop, and would likely drink it as an aperitif neat.
It will likely best perform in a cocktail paired with brown sugar, some acid to give it a lift, or some ginger to extend its burn.
Want to taste it too?
Iridium Gold Rum can be purchased online from Mt Uncle Distillery's website. When we wrote this post it was $80.
Or you could visit Mt Uncle Distillery and drop in for a tasting. Here's a map to help you find it.
There are others…
FNQ Rum Co also make a white rum; Platinum White Rum. I haven't had the pleasure in tasting this one yet.
Have you tasted Iridium?
We'd love to know your thoughts too! Please comment below.