For Run Wenches, The Breakfast Creek Hotel is what you hope heaven looks like.
It's a dear old pub, done up, ridiculously popular with ok looking bar dudes and a *lot* of rum. I didn't count the bottles, but it definitely eclipses the wench collection, and looks as if it's coming in around 500 bottles.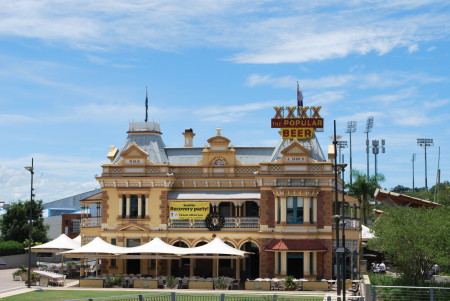 The absolute charming awesomeness though are the incredibly well rum-educated bar staff. They know their rums way too well, they're probably all pirates!
So if you're like me and you come with a list of rums you like drinking, they're able to easily throw 10 rums at you that you'll also love. Seriously, they're that good.
New #1 Rum on My List
At the Breakky Creek Hotel I fell in love with 2 rums that hadn't yet passed my lips. The Cubaney Centenario, and Millionario XO. These 2 nudge my Zacapa XO to 3rd place in the best rums I've ever tasted. I'm very keen to buy a bottle of them both.
I recommend you get a taxi to Breakfast Creek Hotel, and bring $150 to really taste some special rums. The nips are quite reasonably priced, but I found my palate starts to subside at 7 shots. I must be a soft wench.
This might be the best rum bar in the world.